It is weird to think that this blog is over six years old now. Back when I was starting out in 2012, I was only 32, had only recently started getting interested in financial independence and early retirement, and with the fervor of the newly converted, thought I should be able to knock out that goal in eight years.
Mrs. Done by Forty and I were newly married and still didn't know whether we wanted kids in the near future, or at all. We were living in our first house, a true fixer that was originally a two bedroom, one bath with odd additions for the third bedroom and second bath. We were renting out a room to help pay the tiny, $104,000 mortgage. Looking back at our old budgets, we were frugal. Our annual spending barely tipped over $30k, after we had the mortgage paid off.
I figured retiring by forty would be pretty achievable.
But a lot's changed over the past six years.
Baby AF
is now in our life and is amazing, if a little costly. We are also talking about having a second baby, with all the joy and stress that entails. Suffice it to say that thirty two year old Brian did not seriously consider whether a child or two might have an impact on that sub-$40k a year budget he was rocking back in 2013.
Turns out, kids cost money. Take health insurance: even the kind with a high deductible, ends up costing us a couple extra thousand a year, when you add a human that the company isn't subsidizing, as they do with an employee.
And maybe I'm just not as frugal as I thought I was, but our budget seems to be swelling a lot from things like, oh, I don't know,
meeting our out of pocket maximum
for medical costs. And we're about to spend a couple thousand putting a fence around the pool, just in case Baby AF decides crawling in there would be a good idea.
There's the regular stuff, too: diapers, random doctors visits, toys and helpful-baby-raising doodads that we buy from time to time. Oh, and
that whole saving-for-college thing
: turns out,
not free
.
Maybe we're doing this all wrong. I hear from bloggers that kids cost little to nothing: are they all lying to me?

Why are they lying to me?

But in the Done by Forty household, this extra person now living in our house is not "only as expensive as we make him". And I have a sneaking suspicion that this next baby might also decide to cost money to raise and insure and feed, and he probably wants to go to college, too, the selfish little prick.
We also
moved into a home
that's almost three times the cost of the little house we bought in 2010. I'm a little ashamed to admit that this was a pretty emotional decision, not one based on maths. We were planning to start a family and just knew, based on our history of living in a fixer-upper for seven years and fixing literally nothing, that we weren't going to get our old house renovated while pregnant, or when there was a little human crawling around.
So we did the costly thing and bought a flipped house: one (we thought) we wouldn't have to do anything to. Good schools, good neighborhood, reasonable taxes, all that jazz. The rub is that it's a good example of how not to buy a house: one that someone else flipped and made a profit on, and it just happened to be the most expensive house on the block.
I mean, we love the house, it's just what we were looking for; and the dogs love the yard and the pool, and I'm sure Baby AF will, too. But changing your mortgage payment from $600 a month to nearly $1,500 sure does have an impact on your FI plans, especially when you don't really think it through enough ahead of time.
Who knew impulse buys could be in the six figure range?
The third big thing changing our FI plan is Mrs. Done by Forty's work plan. The PhD program being what it is, our initial timeline for when she'd graduate proved to be optimistic by a couple years. And now that Baby AF is here, some other options are on the table. She might want to work full time (ideally at home at least some of the time), she might want to work part time (again, would love to be at home), or she might just not work at all for a while, choosing to just spend this time with Baby AF.
I'm trying to be a good partner and not weigh in on this, because these are her career decisions. We talk about this stuff together and, sure, whatever work decision she makes would impact our FI plans. But I'm cool with any of the options: they all could be great in their own way. Baby AF is adorable and apparently is made entirely of skin rolls, so I get the appeal of chilling with this rolly polly instead of commuting to an office.
But career satisfaction and, you know, money, are good, too.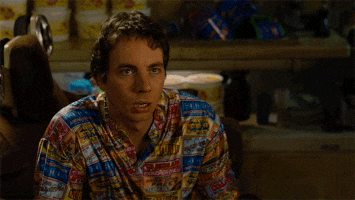 There are a lot of different career paths she could go down, and I think all would come with the satisfaction of doing good work and helping the world a bit. And, you know, there's the money and the sweet, sweet tax deductions that come from a 401k. With two full time incomes, we'd reach financial independence a lot earlier, to boot.
Regardless of which path she takes, it's tricky to plan for FIRE without knowing what our income or our costs will look like.


I finally added up the costs for all the months at the end of 2018 that I was too busy and stressed to document earlier, and our budget apparently swelled to a mind-boggling fifty three thousand dollars last year, by far the highest annual spend on record.
Should I plan for this figure to be our new reality, with the new, bigger mortgage and the baby that probably will continue to need health insurance and food and whatnot?

Or should we plan for an even higher figure, since there might be another person in the mix sooner rather than later? Because it might be hard to be done by forty if we need to plan for an annual spend that starts with a five or a six, instead of a four.
And without knowing whether our income is going to go up or down, how should we make projections?
Here's what the Mad Fientist's laboratory predicts for our financial independence plans, based on the last twelve months of our ridiculous spending, which includes a very scientific trend line, that I definitely did not just draw on there haphazardly in Microsoft Paint.
Despite the undeniable increase in spending, the maths say we can still reach financial independence by the time I'm forty. I have some doubt about the projection, but apparently we are still on track. (Though the lab is currently assuming a 4% safe withdrawal rate that we may never feel is safe again,
thanks to Big ERN
.)
More to the point, being about two years out from the goal, I'm starting to get some feels about the impending deadline. Thanks to thirty two year old Brian thinking it was a great idea to put a hard deadline in the name of his blog, I sure feel a lot of pressure to actually be done by the last day I'm still forty.
But that dumbass didn't know he'd be having a kid or two. Or a new house. Or that Mrs. Done by Forty might take a bit longer to leave the PhD program, and might want to stay home with those kids he didn't know would exist. Why didn't that jag leave me more wiggle room?
There are going to be some serious feelings of failure if we don't hit the goal, and it will be a pretty public failure, too.
The rational side of me says that it's not a big deal. Pulling the plug at forty one or forty two will be just fine. Great, even. Life is going to have changes and that means plans have to change, too.
Still, I
want
the feeling of hitting the goal. I want that feeling of accomplishment and maybe even fame,
my precious quasi fame
, that comes with retiring early. The bad parts of my psyche, the parts that want to impress others and want to seem like a winner to people on the internets, is scared of what it will look like if I don't make the goal.
What will people think then?
*Photo is from
JeepersMedia
at Flickr Creative Commons.